I am usually not very good at playing along with these but since this one is a little different here it goes. My scrap buddy Deb is the one who tagged me :)
THE FIVE TAG
10 years ago I:
1. I was engaged
2. I worked full time at my first real job
3. Was planning my wedding
4. Helping Jeff pick out options for our first house
5. Bought my first new car, 98 Jeep Wrangler
5 things on today's "to do" list:
1. Work
2. Soccer Practice
3. Scrap
4. Snuggle with JJ
5. get orders for Jeffrey's fundraiser
5 snacks I enjoy:
1. Chips and salsa
2. Honey BBQ Fritos
3. Brownies, no nuts
4. Dark Chocolate
5. Choc/PB Chex mix
5 things I would do if I were a millionaire:
1. Buy a house in Hawaii
2. Build a bigger house
3. Quit work
4. Set up a trust fund for my kids
5. Buy me a nicer car
5 places I have lived:
1. Sacramento, CA
2. Marysville, CA
3. Back to Sacramento
4. Gold River, CA
5. Rancho Murieta, CA
5 jobs I have had:
1. TCBY Yogurt
2. Store Cashier/produce clerk
3. Back to TCBY
4. Biller for a University Hospital
5. Back to the Hospital to do medical billing
I am tagging:
Julie O.
KP
Leslie A.
Staci
Charissa
Rules: Each player answers the question themselves. At the end of the post the player then tags 5 people and posts their names, then goes to their blog and leaves them a comment letting them know that they've been tagged and asking them to read your blog. Let the person that tagged you know when you've answered the questions on your blog.
I also have some scrappy projects to share. Can you believe it? I made this LO for a crop challenge over the weekend at
Mon Ame
. Most everything on here is Making Memories, Addie collection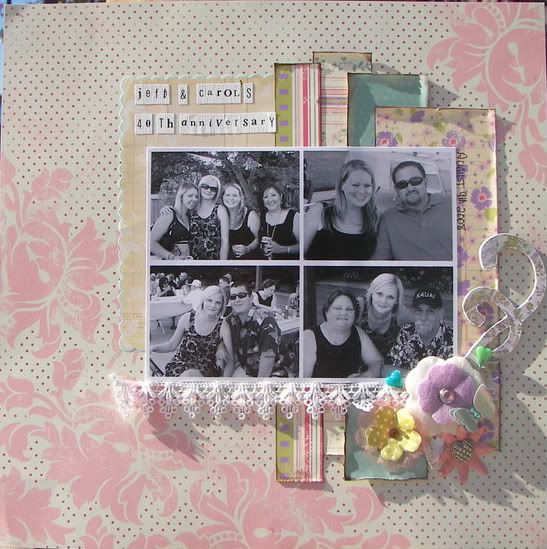 And this one is my first ever 6x12 page. I used the scrappy formula at CMK. Used a lot of Creative Cafe products.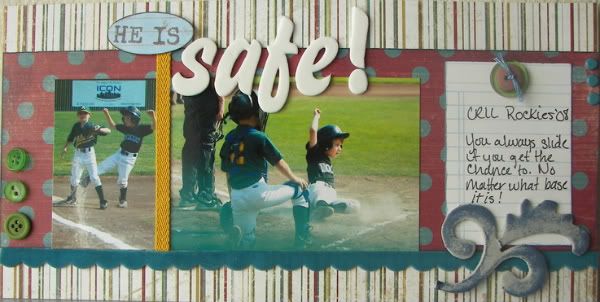 That is it for now. I hope you all had a great weekend!